Important changes after the second test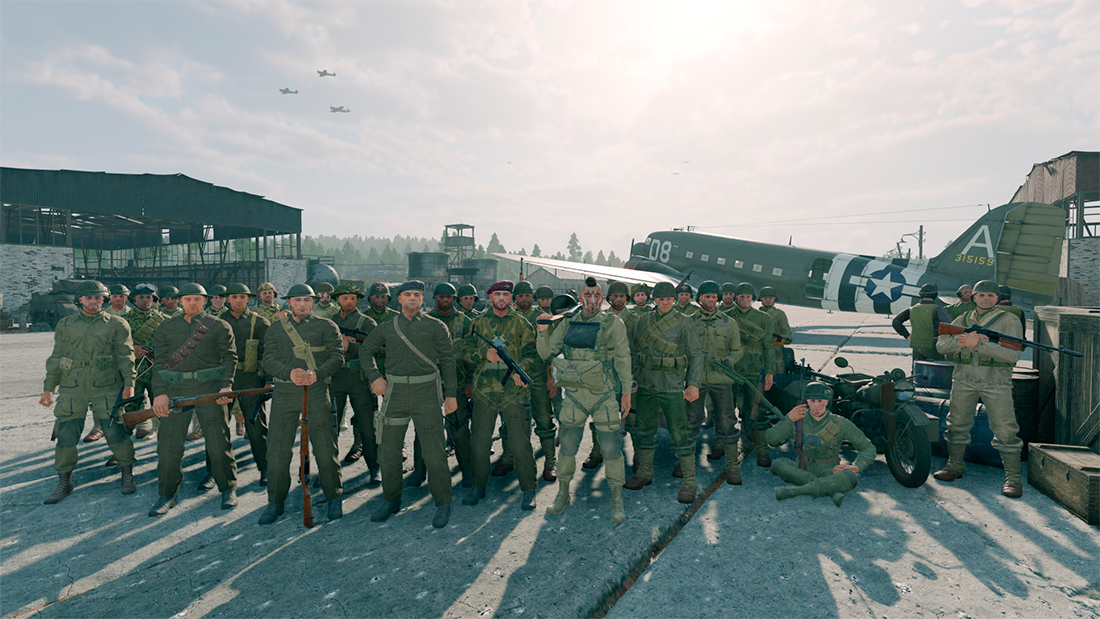 The second test is over! After looking at the results and reading your feedback and suggestions, we think it's worth telling you about the planned changes to the new Enlisted.
Matchmaking
Based on your feedback, we realized that the balance of matchmaking proved to be much more important to players than which maps they get to play. That's why we've decided to abandon the idea of preferred and undesired maps - instead we'll use the more familiar battle rating system. Which will be determined by the maximum battle rating value of each weapon and vehicle in the player's active squads.
How it will work
Each of the four countries will be split into two queues: the matchmaker will try to ensure that players with battle rating 1 and 2 play separately from 4 and 5 and do not meet in the same battle.
Players using equipment with battle rating 3 will have an equal chance to get into battles with players rated both lower and higher. As a result, the list of maps for players with battle rating 3 should also become very diverse.
USSR with battle rating 1 and 2 will play mainly on the maps of Moscow and Stalingrad, while with 4 and 5 on the maps of Stalingrad and Berlin.
USA with battle rating 1 and 2 will play mainly on Tunisia and Pacific maps, with 4 on Normandy and Pacific and with 5 only on Normandy maps. Please note: taking at least one weapon or tank with battle rating 5 will stop you from getting Pacific maps until Japan has weapons and vehicles with battle rating 5.
Germany with battle ratings 1 and 2 will play on Moscow, Stalingrad and Tunisia maps, with 4 and 5 on Stalingrad, Berlin and Normandy maps.
Japan with all four battle ratings will play on Pacific War maps. Players with battle rating of 1, 2 and 3 in one queue, while 3 and 4 in another.
It should be noted as well that new players, as before, will play their first battles in separate queues.
The system allows us to flexibly change the number of queues at any given time, so perhaps in the future the number of queues will increase and each queue will include fewer battle ratings. This could happen if we see that wait times and number of players per battle allow this to be done without causing issues.
Exceptions
In most cases the battle rating of weapons and vehicles will match their position in the research tree, but not always.
You have noted that the effectiveness or historical background of certain weapons and vehicles do not match their position in the tree. Because of this, it will be possible to fine-tune their battle rating, and now we are already working on changes too - we will also take into account your feedback.
Stalingrad engineers
The news that engineers from Stalingrad will lose their ability to use automatic weapons was received with mixed feelings by you, and the issue was brought up again when discussing the second test.
It is worth starting with the fact that engineers from Stalingrad are ordinary engineers, so there were only two options: to give all engineers the ability to use automatic weapons or to take this away from the Stalingrad engineers.
We propose a compromise: after the release of the major update, in one or more events, we will provide the opportunity to obtain four promotional engineer squads, one for each country, with the unique feature of being able to use upgradable assault rifles.
The squads for the USSR and Germany will be among the most valuable prizes - you'll have to try and play Enlisted regularly to get them. But the owners of the Stalingrad Full Access will get these two squads immediately, which will allow them to continue playing the event in great comfort and without hurry with the honored engineers "on board".
Thank you for participating in the test!
We are always looking forward to your feedback and suggestions to provide a more comfortable gaming experience for each of you, so we would like to thank all participants of the test and its discussion! Just like last time, please note that all of the changes above are not final.
The "Honor" portrait for the participants of the second test will be issued to their main account in about a week. Thank you again!