Happy Birthday Enlisted!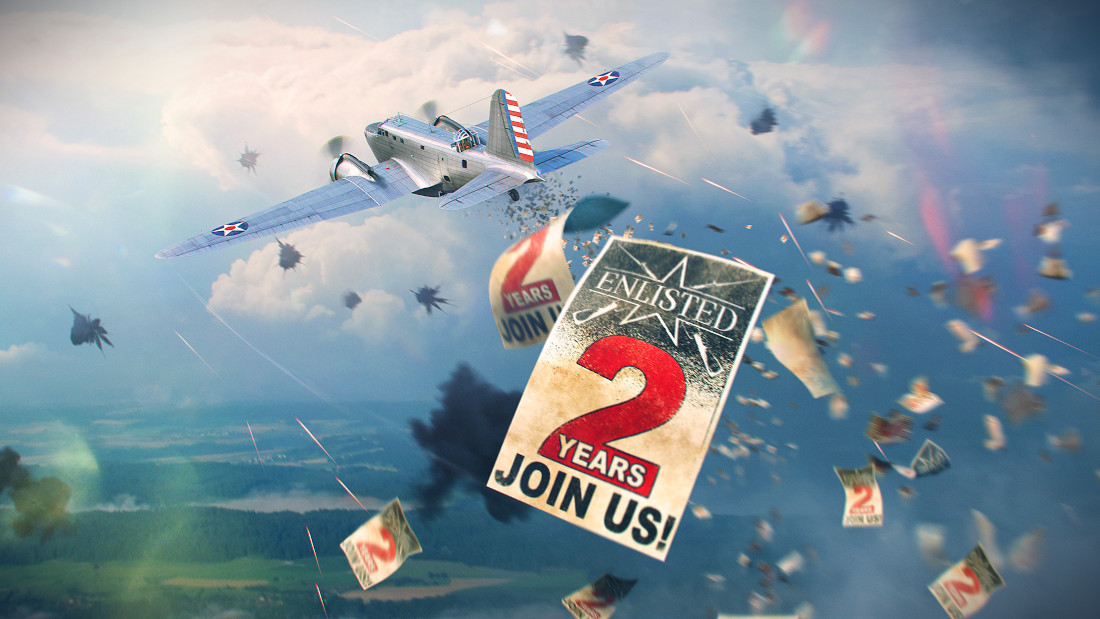 Just before you know it, Enlisted is two years old! We've marched from the closed alpha to six big campaigns, six countries, and millions of victories side by side with you, dear commanders.
Oh, and how much more to come! Enlisted continues to grow and improve. Another major update awaits you this year, and right after it — a lot of improvements are still yet to come to this game we all know and love. You'll see all of what's to come in due time, but today we just want to celebrate this special day. We have prepared all kinds of memorable and useful in-game gifts for you, a great in-game discount, a sale on the store and returning unique squads for gold.
From November 10th (13:00 GMT) to November 15th (13:00 GMT) Let's celebrate Enlisted's Birthday!
Get your Gifts!
"Thank you for your service!" portrait.

Three portraits of Allied soldiers. Let everyone know you've marched in the holiday parade!
Attainable for 1 victory. You can get 1 per day. Portraits are available to receive from tasks from the 10th to the 13th of November.
Collectible Decals

Get all recognizable drawings from historic vehicles right into your collection.
Place in the top 50% of the team at the end of battle 2 times. You can get 1 of these per day.
Gold Order for Weaponry

There aren't many exclusive weapons, so here's your chance to get one more!
Earn 20000 combat points total. Progress is saved until the end of the holiday. You can get 1 of these orders.
In-game sales
Until November 17th (13:00 GMT)
The best time to increase the size of your army with some new premium squads.
30% off Enlisted premium squads from the Burning Sky update;
50% off other Enlisted premium squads, not including squads from the latest Pacific war update.
In-store sales on PC
Until November 17th (13:00 GMT)
We've also prepared some popular bundles at half price. Some of these will leave the store after the holiday — so this is the last chance to pick them up!
Bundles marked "will be leaving the store" will be removed from sale on PC on November 17th.
Back on sale on all platforms
Until November 17th (13:00 GMT)
Previously you could only purchase these squads in the store, but for the rest of the celebration period, these will be available again for gold! Make sure to look out for them in game!
Battle for Moscow: MG 30 Squad
Battle for Moscow: Chauchat Squad
Invasion of Normandy: Browning M1918 Squad
Invasion of Normandy: Browning wz. 1928 Squad.
Battle of Berlin: SKS-31 Squad
Battle of Berlin: Kbsp wz.38M Squad.
Stay tuned, comrades. There's a lot more to come.
Note
Collector's decals are nationality specific and can only be used on their country's vehicles:
"Tiger" emblem, 4./JG26 Squadron Luftwaffe — Germany
"Britannia Defiant" decal, "Liberty Belle" pinup, 836th BS, 487th BG, 8th AF, USAF — UK and United States
"Ulan-Ude Bear" emblem, Air Force, USSR Guards Emblem — USSR