Replays and a Cinematic Mode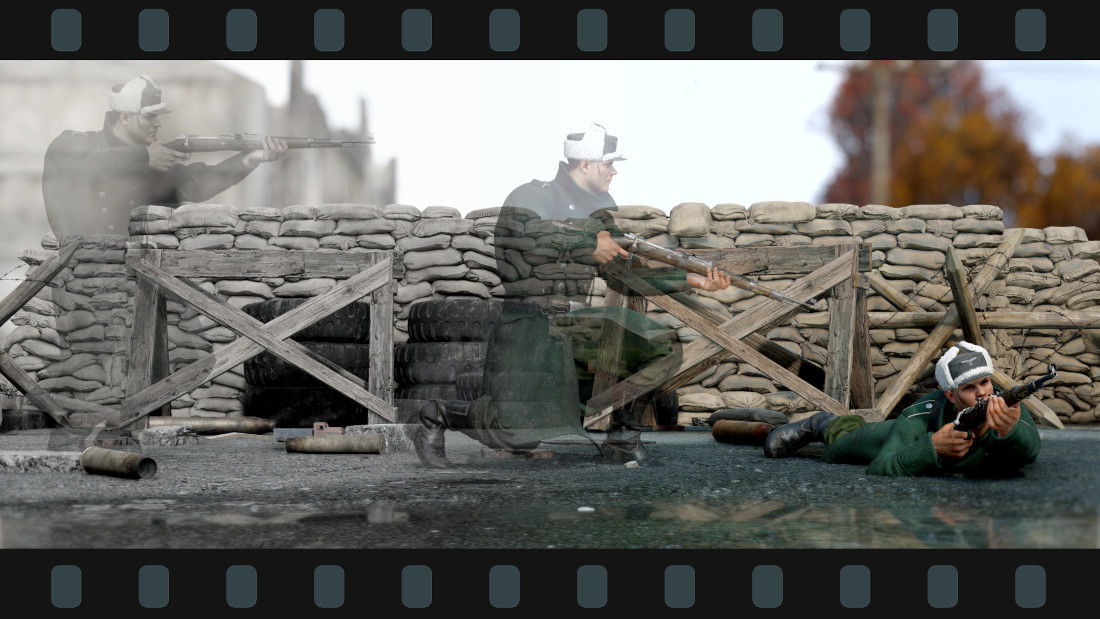 Enlisted is quite a cinematic game, and you know how to create stunning screenshots and breathtaking videos — if only you had a tool for this.. Well, Introducing the tool.
Replay Mechanics
With the upcoming Major update, every battle fought in Enlisted will be recorded and available for all players to watch!
Every move, shot and explosion can be viewed from different angles - including a look at the battle through the eyes of every soldier. Perfect your personal tactics, re-watch your best moments and share them with your friends, create cinematic screenshots and exciting videos.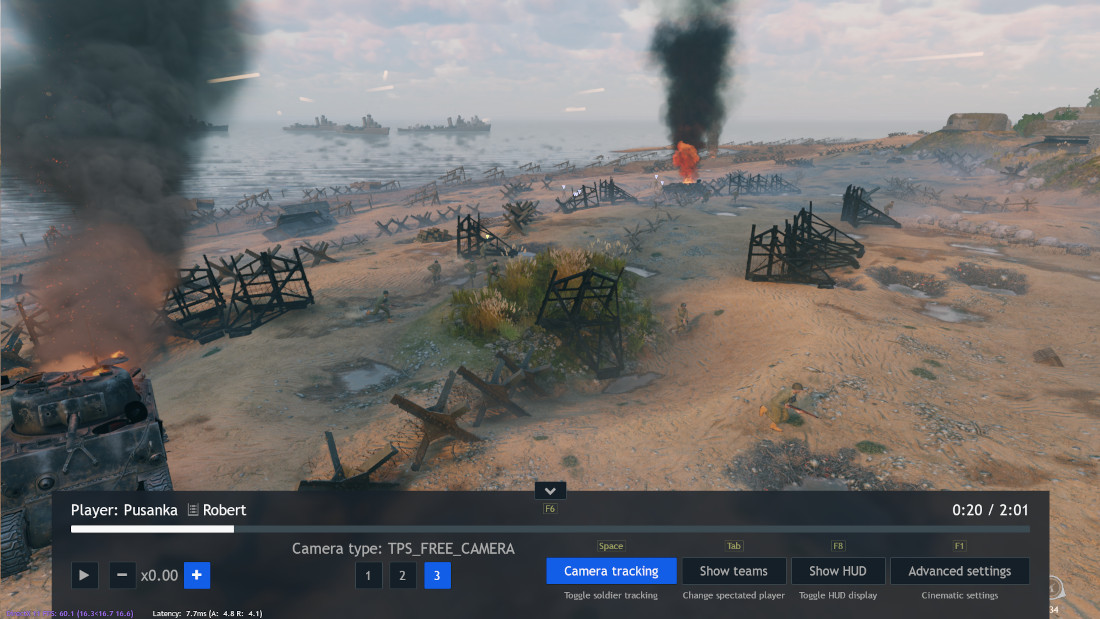 General Replays base
All past battles will be stored on the "Replays" page on our website. You use one of the filters to search for the desired battle. The replay card contains basic information about the battle, including a list of its participants.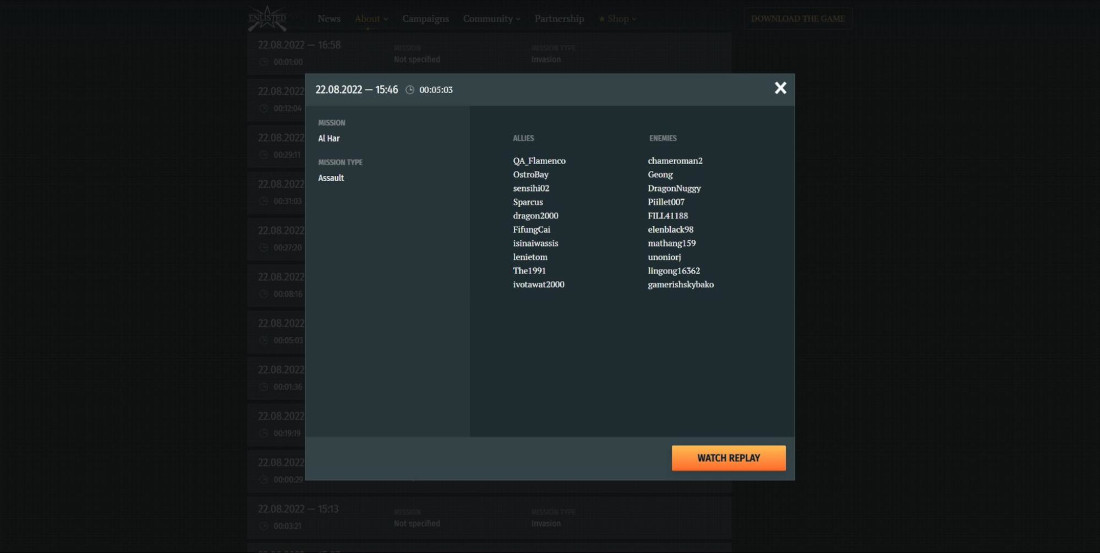 Right from this page, you can start a replay and watch it in the client! To do this, log in to the site and log into the game under the same account, and then click "Watch Replay".
Replay viewer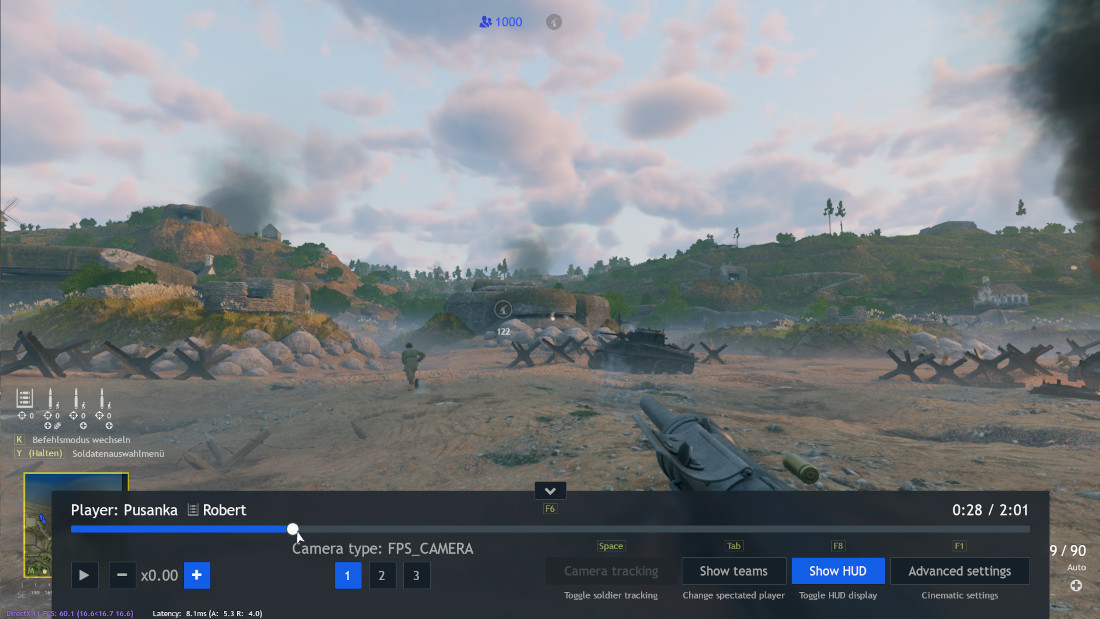 The viewer functionality is similar to the regular video player with pause, skip, rewind, speed up and slow down. Only in replays you are free to explore any point on the map in free camera mode. Or use one of the many alternative cameras:
The 1st person camera. See the battle through the eyes of any participant.
The 3rd person free-view camera. The camera is over your target and follows them everywhere.
Tracking Camera. A similar view, but without the overhead tether. The camera can be moved to the side and continues to follow your target in this position. For example, to make a beautiful shot with the moving on the bridge and the view from the side.
Operator. A smart camera that will make beautiful flyovers and pick up good cinematic angles. And you can just enjoy the picture.
Besides, there is also a cinematic mode with its picture editor's functionality.
Cinematic Mode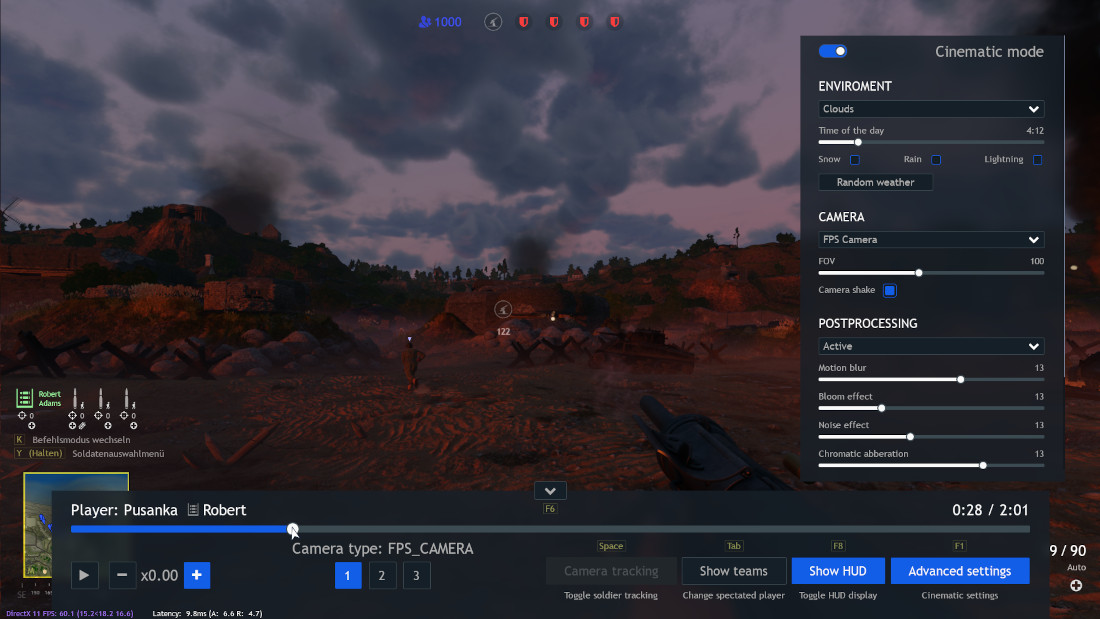 The widest set of tools for the most demanding!
A cinematic mode will allow you to change the weather in real time in a Replay, switch lighting options, and enjoy an advanced set of camera and post-processing settings. Here are some of the features:
Depth of field - defocus the background and focus on your subjects. With this effect the frame becomes visually deeper.
Angle of View - capture the entire scale of the battle or focus on one character.
Camera shake - shake the viewer with explosions near the camera.
Motion blur - add dynamics to even a soldier's relaxed walk.
Vignette - darkening the edges of the screen. Can also help enhance the immersive effect.
There are even specific effects such as lens flare, chromatic aberration, graininess, and extensive color correction options for the frame. In real time!
The most successful frame settings can be saved and used in other replays too. Create!