Give your army a unique style!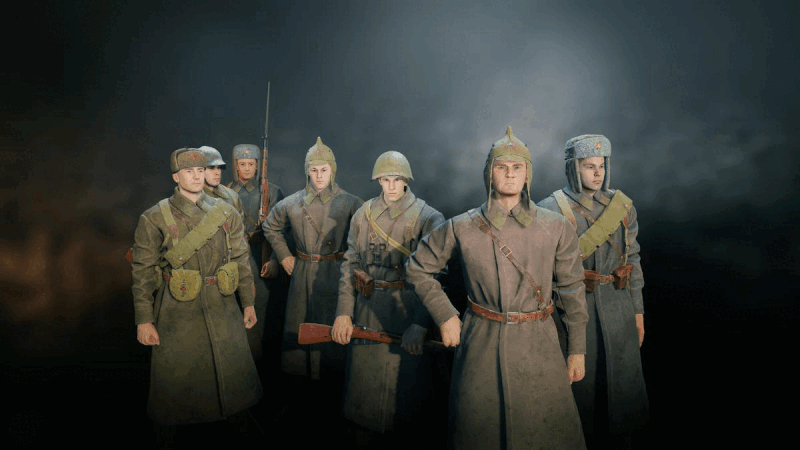 In the upcoming major update as we promised, we will add the ability to create a unique look for each soldier and vehicle in your army. The update will arrive alongside an impressive selection of dozens of historic clothing and equipment items, tank camouflages and hundreds of historical markings await you with the release of "Stalingrad"!
Available for the first time in our new campaign
This huge customization system will appear first in Enlisted exclusively for the "Battle for Stalingrad" campaign, but we will extend it to all of the game's campaigns in the future.
Soldiers
A new wardrobe will be available for each individual soldier of your squad through their file in the interface. You'll be able to change faces, outer clothing, pants, hats and even gloves separately!
Additionally, we've been careful to keep the overall look of each soldier historical, the options available for clothing and equipment will stay thematic to the campaign.
Also, you'll be able to unlock more customization options for orders for soldier's appearance and for gold, and in the future, it will also be possible to win in events and through the Battle Pass. You always have to keep your wardrobe fresh.
Customization options are also tied to soldier class, so the range of available items may vary across the board.
The new design choices for your tanks and planes are just as impressive. In the vehicle menu in your hangar you'll find a new button labeled "Customization". From here you can apply special camouflages and unique decals to your vehicles!
Camouflage is applied to the body of the entire vehicle and not only makes its appearance special, but also has a practical function - an effectively camouflaged vehicle is far less noticeable to the enemy.
A decal is not just an opportunity to apply identification markings, but also a way to personalize your vehicle, to intimidate the enemy or to boost the morale of your allies. The practice of applying decals has been known since World War I, where ace pilots applied special distinctive signs to their planes, instilling fear into the hearts of enemies. Now you can truly make your vehicle legendary!
You can apply the decal to any suitable surface of your vehicle, where it can be rotated and scaled to your liking - with an active premium account you can have up to 4 decals on your vehicle, and two without.