Silent Weapons in the new Battle Pass season
The hunt for Battle Pass rewards promises to begin with renewed vigor! Silenced weapons for all armies, new heroes, and many important improvements regarding mechanics. Let's take a look at some of the season's rewards right now!
The new season will begin with the release of the Battle of Stalingrad update and will last for at least 11 weeks.
Silenced weapons
Silenced weapons are much quieter than their analogues and are great for attacking from the rear or from concealed positions. For one gold order you won't just get a single weapon, but a set with a pistol alongside a primary weapon: a rifle or a submachine gun.
Erma EMP (silencer)
A rare modification of the EMP submachine gun developed by Erma for the French secret police.
Available in any campaign for the Axis side.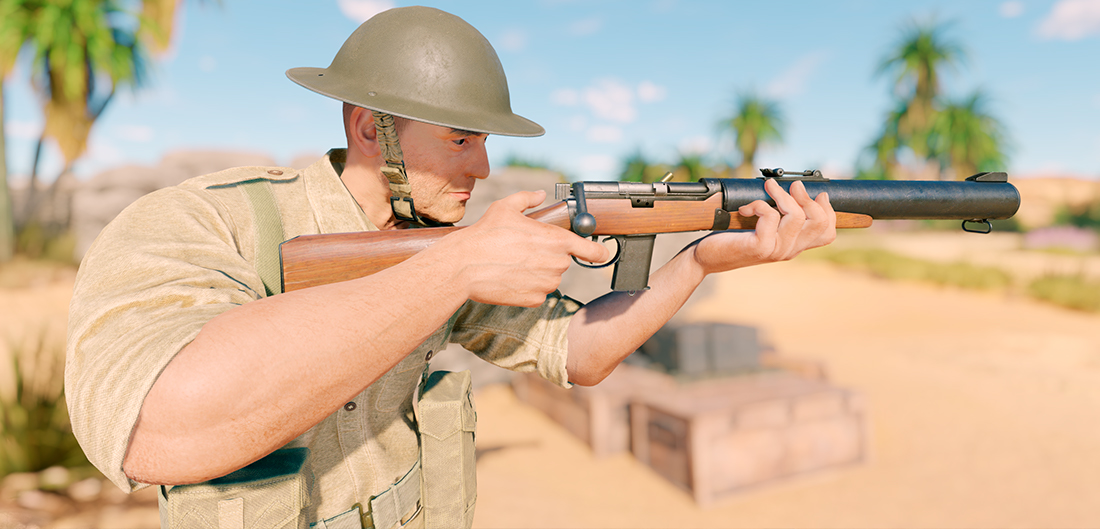 De Lisle Commando carbine
This compact pistol-caliber carbine was used during military operations by British commandos.
Available to Allied soldiers in Tunisia.
In total, there will be 8 different silenced weapons for each country every campaign.
Additional Rewards
For all armies and campaigns in Enlisted!
Complete list of vehicles with unique camouflages:
IL-2 (1941) "Four color camouflage", Air Force of the Red Army 1941
Ju 87 B-2 "Winter", Eastern front 41-42г.
M10 GMC "702 TD", Camo based on tank, displayed Overlord Museum, Normandy
Panther A "R02", Camo based on historical photo, Normandy 1944
Yak-9T "Belorussian Front", Belorussian Front, 1944
Fw 190 D-12 "JV 44", Airfield Defense Squadron, 1945
A13 Mk II "3rd RTR", Camo based on 3rd Royal tank regiment, Africa, 1942
Pz.III J "112", Camo based on historical photo, Pz.Rgt.5, 21.Pz.Div. Kasserine, February 1943
KV-1 "Hit the fascists!", Camo based on historical photo, Eastern front, 1942-1943
Pz.IV F2 "1233", Camo based on historical photo, Rg.24, 24th Panzer Division Southern Russia, Summer 1942
Improving rewards
For this new season, we took into account your comments and suggestions concerning some of the rewards.
Instead of the +100% booster for a single battle, there will be a new +50% booster for 3 battles, which will make progress more balanced and means you aren't out of luck if you have one bad match.
We've completely removed the booster for squad experience and soldier experience, which some players perceived as a booster for campaign experience.
The number of Bronze Orders in Battle Pass this season has been doubled.